Well... What to say about this one.
Its my first car, that I bought with some money I got from my light motorcycle(class A1) on december 2012, a little bit before I got my drivers licence, and I chose this small corolla since it was cheap(1700€) for the condition its in, and all the stuff that I got with the car, like for example a DVD-player, subwoofers, amps and other electronics, almost new winter tires and so on. It now has 212,000km (200,900 when I got it) and the car looks the same as it looked when I got it, and it has some more or less minor things that require fixing wich I will explain further in the pictures, and also will point out some other details. I have plenty of plans for the car, but currently no money to start building it since I do not have a job, but ill get there. Anyway lets start the "showcase"
First off lets just have a little look from the outside, and yes it is dirty cuz I happen to live in a small countryside town...
The previous owner has made the rear bumper from the original, and it needs some fixes since the fiberglass and paint has cracked from many spots, and its completely fucked from the inside
The sideskirts have also been changed/modified I am not sure 'bout that one, and they are some odd sort of "Pop on 'n off"-type ones
Front bumper has taken some minor damage, previous owner said that he drove over a rabbit. Also the "engine armor" is all dingly dangly hanging since I drove the car into a pile of snow (This is the only "damage" I have caused to the car myself.)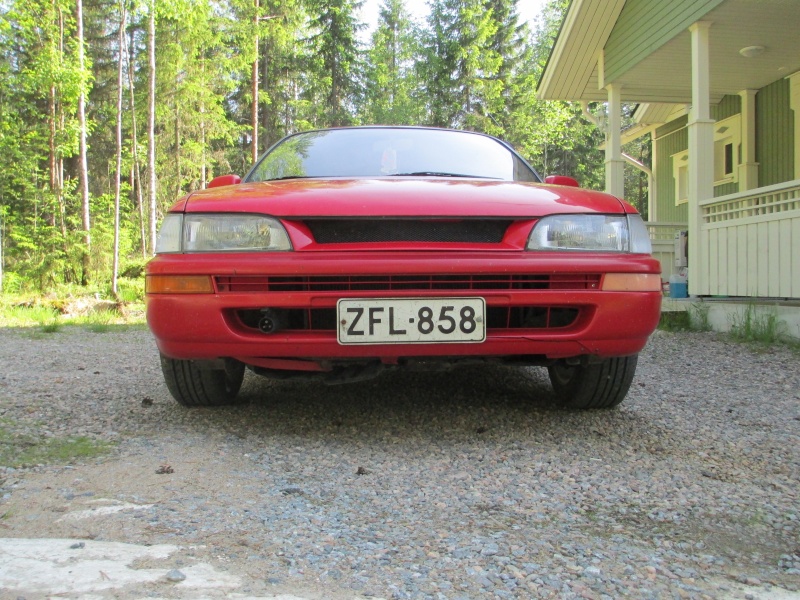 Now for some of the damages that need to be fixed atleast to make this car look a little bit prettier
I already mentioned the damages in the rear bumper, and also the minor things on the front-end, but there are couple of other things
First off, the rear shocks. The owner told me that he replaced a new sportish suspension on the car wich makes it more nice to drive on asphalt roads, well sportish suspension my ass I say since even though we have asphalt roads here, the condition of the roads is a liiiiiiiiiiittle bit different compared to the capital area of Finland, so this "sport-suspension" is a fucking terrible thing to drive on these all cracked and bumbed up roads, and as an aftermath for this, the rear-suspension has gone all shit.. I would describe it as a 200kg dude using a pogostick made for children between the age of 5-10.. if there is more then one person sitting in the car, the reartires keep scratching against the fenders ALL THE FREAKING TIME when you drive around.. constant *scratch scratch scratch* everytime the wheels go around, and even the slightest of bump cause a loud thump 'n scratch-noise. the front-shocks are still somewhat good, but not too fancy eather since they keep scratching on bumps aswell. So suspension is going to be one thing that needs repairing for sure when I have the cash to do so.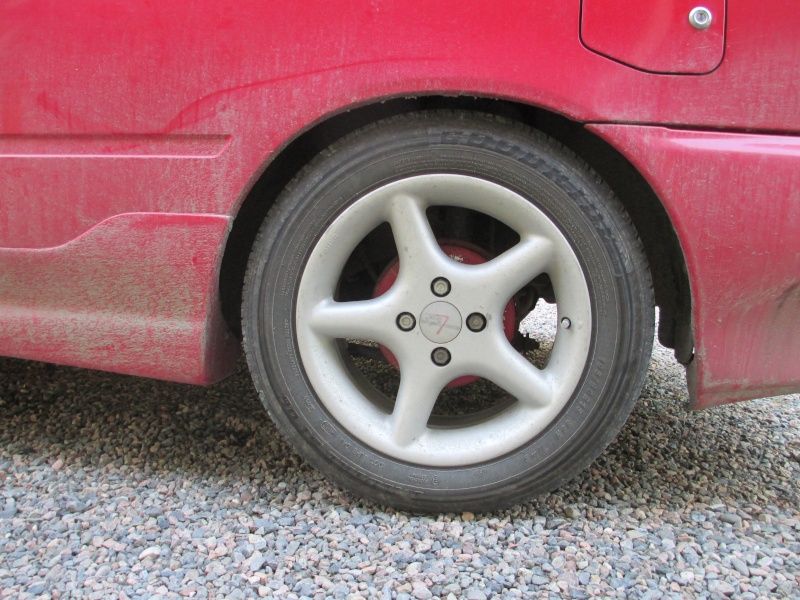 Next up, is some more destruction caused by the freaking terrible sporty pogostick-suspension.. all the fenders are.. bit popped out, and bent.
Next things is the compartment for storing stuff, I had to remove it since the relay you can see in the picture decided to burn, and plenty of electronics stopped working.(DVD-player, Rev-meter, voltage-meter, amp-meter, and radio) The freaking thing wasnt put on with screws like usually, but it was fucking glued instead??! so I just had to rip it of and it got into a bit of a bad shape + there is no way of screwing it on, since all the screw spots are broken.. no idea wtf happened to it before I got the car. Gonna have to find a new one from somewhere so I dont need to keep all the stuff laying on my backseat just cause I dont have the compartment.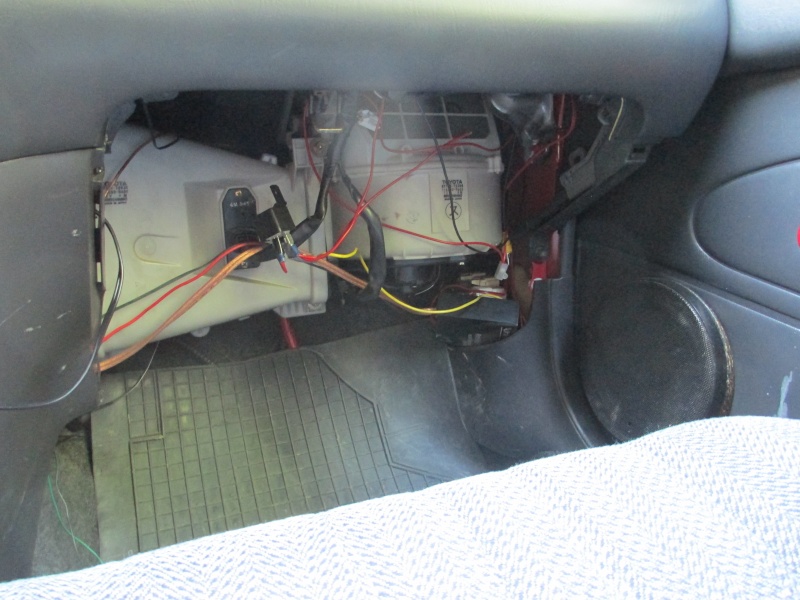 More about the relay that broke, there are some other electric work that needs to be done to this car, and alot of foolish and unnecessary things that need to be removed. For example, there is a freaking LED gear-light on the console of the car, wich I first of all dont need cuz I dont have a freaking Sequential gearbox in this bitch, and second of all its
positioned so low that the usefulness of it is absolute zero... I mean who looks around the ashtray to see what gear they are on, when driving on a track or something... I mean come on, what the hell was the idea to put the gearlight that low if you HAD to put it on this car in the first place... just a terrible waste and unnecessary destruction of the original console. Besides this there are also many buttons in the console that do NOTHING..at...all since they belong to stuff that used to be on the car but aint no more (neons under the car, strobo lights on the parklights and some other weird ricerboy doodoo.) I don't mind the Voltage- and Amp-meters, but the need a new place as well, since its impossible to look at em while driving cuz they are kind of hidden behind the gearshifter. Easiest solution most likely is to go to a scrapyard and look for a similiar car and buy a console from it, cuz there is just too damn much fiberglassing and stuff on there if I want to make it look nice again. Then the powercable for the amps is my own fault since I bought too short one, so I had to pull it back there through the shortest course wich is "surprise" on the floor of the car, that needs to be redone cuz its gettin stomped by people, and it gets wet during winter since snow gets carried into the car, and I do not want to cause a freakin shortcircuit just cause of that.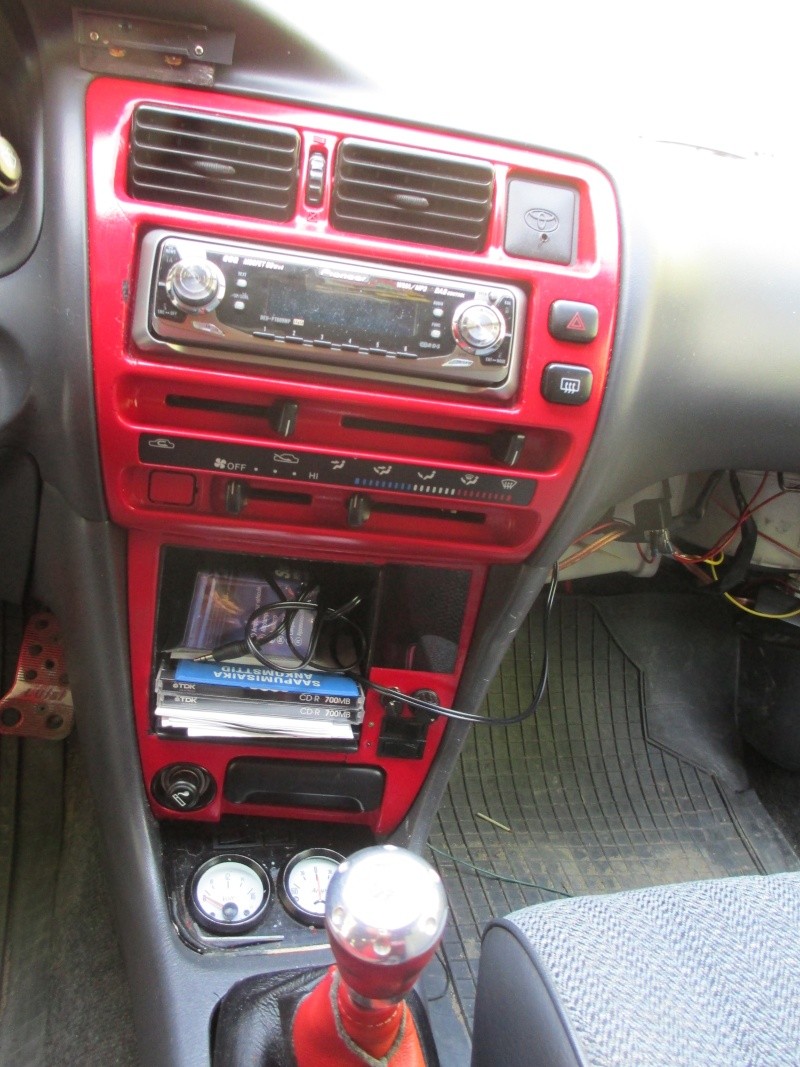 Now that we have some of the bad-sides, we could focus a bit on the good things about the car, and what I am planning on doing to it over time.
Well, the car is in above average condition besides these couple of things, its still rideable and gets the job done, and it actually is really comfy on the inside for just a pretty normal corolla. Engine works like a dream, give it a bit of water and oil every now and then and it keep running, put some air on the tires and they keep rolling, it doesnt consume that much gas, so without a work I can still afford driving it, I have nice stereos on the car, so driving long distances isnt boring at all. Long story short, its pretty good for a first car to a guy who only gets a bit of money due to not working.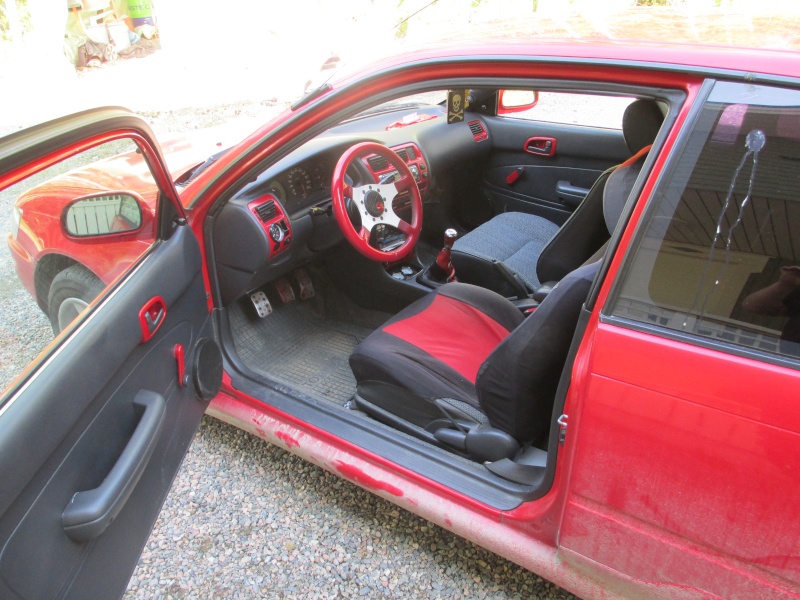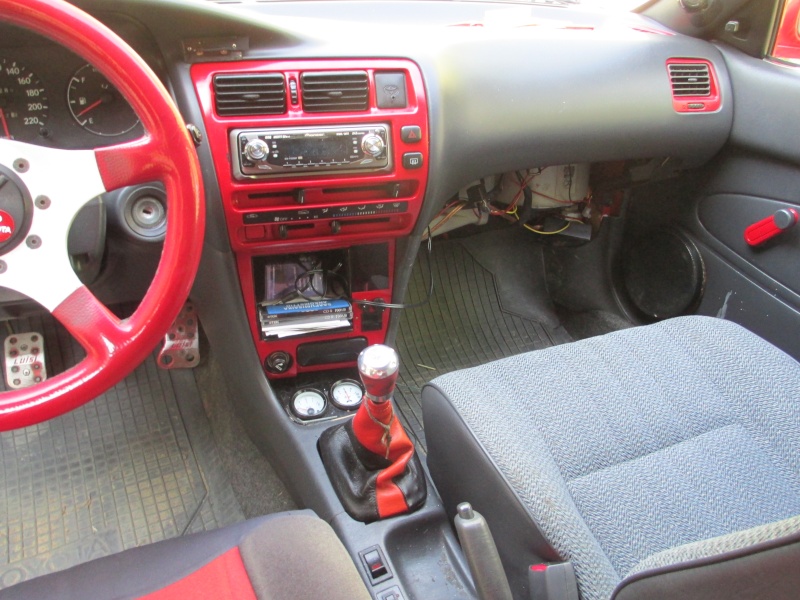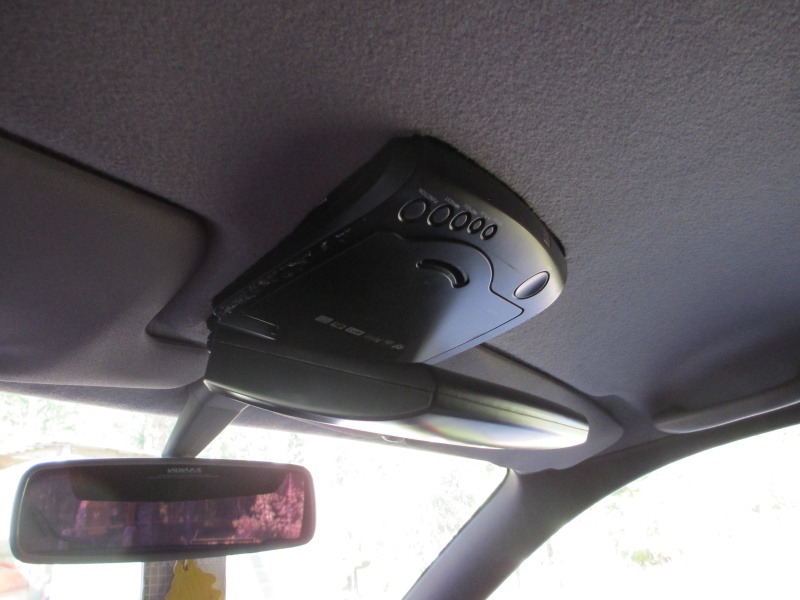 If anyone is interested ill put some info about the entertainment of this car right here.
Radio/CD-Player: Pioneer DEH-P7600MP w/ AUX-cord for MP3-players etc.
A DVD-Player w/ screen (duh.)
4x 6" Pioneer mid-speakers
4x Pioneer tweeters
2x 12" CarPower BlackBass subwoofers
1x DLS Ultimate A6 1200watt Monoamp for woofers
1x Blaupunkt 270watt amp for speakers
But then... incomes the mind of a car-enthusiast.
I've always liked cars, from as far as I can remember into my childhood I have loved cars, especially special, tuned up, fast cars. And I have wanted to make one for such a longtime, most likely when the first Need For Speed game came out XD, to start from a scratch or almost a scratch and make something unique, and different that noone else has.
And now that I have a car I started thinking "What could you possibly make out of a corolla like this" and then all the ideas started popping.
Just gonna list and tell about the basic ideas I have now, not gonna go too much into detail yet since there is some figuring out, and choosing between things. but anyways
-The color will be eather Yellow&Black or Orange&Black, or if the person who most likely paints my car in the future gets a funky idea we might go with that.
-Matching interior with the color of the car, seats, doorpanels, everything.
-Not going to make the car look like a freaking dragster with only a rollcage and one seat, but the backseat will go away, racing seats on the front, subwoofer case behind front-seats, a racing gastank into the trunk + all the fuelparts and battery there aswell.
-Necessary gauge's on the deck, to see things that needs to be seen from a tuned engine, you all know the drill, not going to make it a meter hell of course, but couple of the more uselfull ones. Radio will be replaced with something a bit more of this century, a 2-din radio or something like that. all the pioneer speakers will go into a trashbin since they are pretty cheap and by the time this car is almost done, they are most likely already played into a horrible condition anyway.
-Wiring the car again, make everything go smooth
-Making a propper rollcage all the way from the front of the car to back of the car, just to keep things safe.
-All suspension, breaking and controlling related stuff will be switched into something designer more for a racing car then the original parts. And I also need to get powersteering on dis bitch
-Modifying the cars look on the outside, change lights, blinkers all that, give it a bit more curves with some bodykits, most likely gonna make something simple with a friend of mine, but not gonna go for anything sick, just to give the car a bit of curves, not to rice it out, rims will get changed obviously, not sure what type of rims and what size but ill get there, take away the window tints, they are too dark, eather won't put any on, or give em just a little tint. And finally one of the things I dislike is the way the trunkhatch looks around the window wiper, gonna make that into somethin more smooth instead of it having that weird flat area, makes the car look a bit blocky (please don't hate me, its just my opinion XD)
-Engine swap will happen, and I'm currently between two engines.  4E-FTE or 3S-GTE  and depending on wich one I choose in the end, the car will be eather FWD or if I get the 3S-engine, I might make the car AWD (thanks to people who wreck so many AWD celicas)
Rebuilding the engine, make it strong and all that, turbocharge or twincharge the engine, add all the necessary stuff for the engine, intercoolers, oil coolers all that, you know the deal. The power that I've been thinkin for the engine
4E-FTE around 350hp
3S-GTE, 350-400hp if FWD, 500+ if AWD
on the streets, around 140-200hp, thats enough, and I dont think I can get this car legal with anymore then that anyway.
Feel free to comment about this, tell me your ideas and thoughts about my car and the whacky plans I have for it. I will post stuff on it everytime I get somethin done to the car, and I will also post any problems I encounter with the car in this post, and I appreciate it alot if you, fellow Toyota riders can lend a helping hand to me. Not sure where this crazy idea of mine will go, but hey, lets hope it goes somewhere atleast